A Baseball Cap That's Not Just A Baseball Cap
The Very first product from UNDIVIDED is a modern redesign of the traditional truckers baseball cap. featuring a more durable fabric, better airflow and a vibrant colour range.
Our Undivided Flow five paneled designed headwear is also fully rinseable, just in case of unsightly sweat marks.

The Undivided FLOW custom-fitted flexfit baseball cap, incorporates a flexible headband for comfort that eliminates the need for an adjustable strap at the rear.

In addition to all that, there is extra interior fabric to offer better sweat absorption, it is also way easier to keep clean but its best feature by far is that you get to make a difference just by wearing it!
buy now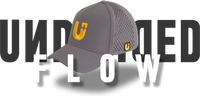 Reviews
These hats are awesome! I have two and definitely want more: the fit is fantastic . The buckram high and solid and the brim is flexible and comfortable. They are not hot due to the perforations at back and no snap means no pulled hair. The colours are rich. Iv had allot of compliments about the hat. They are well worth it. Very stylish- a great brand

MJ
The Premier Cap

Love this brand and absolutely love this cap! It is the premier baseball cap. It screams quality and style from the easy snug fitting feel and compelling colours and design. Plus the great air flow lazer cut mesh makes all the difference. Whether its wearing it in my downtime or mixing it up with formal attire this cap makes a lasting impression, every. single. time. Trust me.. you'll need at least two if not three of these caps in your life.

Jason Ramsay
Stylish, classy, comfortable and super sexy. Love being able to wash it easily but most of all glad it's also for a good cause and the message of the brand. Initially I was a little reluctant as the price seemed slightly higher than average, but once I received the product and used it, I can safely say it was worth every penny. Didn't realize the amount of premium detailing and quality on each one. In a league of their own. Ordering 2 more as presents. Go UNDIVIDED!

Govi Tyler
Undivided and Unparalleled

I love the lightweight, stylish design and vibrant colour of my Undivided cap. It's great for chilling and protects me from the harsh sun while sailing

Em on Feb 09, 2020
I love my plum cap!



This is hands down the best designed cap I've come across. It looks different to anything else out there in the market & has great airflow for sweat absorption. And the fit is amazing! It doesn't have a strap so it fits nice & snug. The plum is my absolute fave colour! Will be buying more in different colours x

Selina Sawaya on May 24, 2020
Classic styles with a funky new twist!

Excellent fit, materials, attention to detail and finishing!
A very good looking and quality baseball cap. Thank you very much 100% thumbs up!

Kalvin on May 24, 2020
REALLY GOOD QUALITY HATS DEFINITELY WORTH THE PRICE

I have just received my caps after ordering them on the website a black and a blue and the first thing I noticed is the quality they very robust and well made the fitting is nice and snug i would say one of the best on the market i love it

Morrison John on Jul 23, 2020